New Year Honours: Charity worker, 21, made an MBE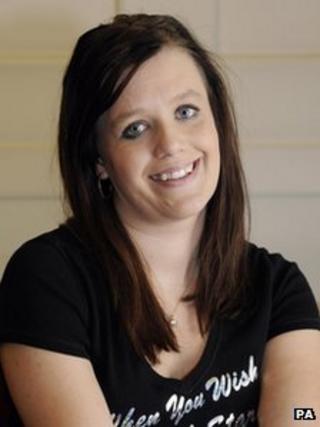 A 21-year-old woman who has been appointed MBE says she hopes the honour will help highlight a charity which makes sick children's dreams come true.
Kirsty Ashton has raised £87,000 for the When You Wish Upon a Star charity despite having serious health issues.
Ms Ashton, from Greater Manchester, has neurofibromatosis, a genetically-inherited disorder which affects the skin and nervous system.
"Hopefully a few celebrities will come to my balls now," she said.
Ms Ashton is currently working on a £100,000 campaign to ensure 43 children and their families can escape for a week to Center Parcs - the first "wishes" the charity has had to turn down.
She was honoured for her charity work, which she began in 1998.
"I'm very stunned and overwhelmed, I'm shocked. Because when I was reading the letter I was like what," she said.
"I was like proper confused because I didn't understand why I was getting the MBE because to receive the MBE at 21 it's amazing and it'll help me more towards my charity work."