Two men die as storms hit England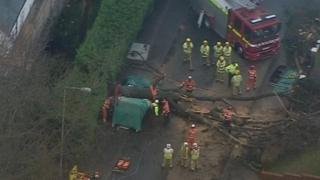 Two men have been killed as large parts of England saw winds of up to 80mph (128km/h).
A man in his 50s died when a tree fell and crushed his van near Tunbridge Wells town centre.
Another man died in hospital after being airlifted from a small tanker which was hit by a large wave in the English Channel.
And a bus driver suffered severe injuries when a large oak tree fell on his vehicle in Witley, Surrey.
In Tunbridge Wells, Kent Police said the van driver was pronounced dead at the scene of the incident which happened in Sandhurst Road about 12:25 GMT.
A spokesman said: "His van is believed to have been stationary at the time of the impact. A male passenger in the vehicle is not believed to have been injured."
The crewman who died was one of three injured men who were rescued by Falmouth coastguards from the Annie PG in the Channel. The other two men were taken to the Royal Cornwall Hospital in Truro.
Elsewhere, the injured bus driver in Witley was cut free from a single-decker Stagecoach bus and taken to hospital. Police said the oak tree which fell was 6ft (180cm) wide.
Two passengers on board the bus were unharmed, Stagecoach said.
Fallen trees closed main routes and caused travel disruption across England, including in Devon, Gloucestershire, Cumbria and Wiltshire.
Rainfall expected
The Met Office said conditions had been caused by a deep depression
A spokesman said the "worst of the winds" were over for England, although gusty conditions would persist in many areas until Thursday.
"Gusty conditions for the rest of the country will carry on through Wednesday as well, especially for the the west side of England where winds of 40 to 50mph (64 km/h to 80 km/h) are expected," he said.
Heavy rain was expected in parts of the North West on Thursday, with Met Office "yellow" warnings in place for Cumbria where 40 to 60mm of rainfall was expected, he added.
Elsewhere, the Port of Dover has re-opened after closing for several hours because of Force 10 winds in the English Channel. Delays remain on services to Calais and Dunkirk.
Grandstand damage
And part of the roof of Epsom Downs Racecourse's new £28m grandstand has been blown off by the high winds.
In Gloucestershire, two women - one in her 70s and one in her late teens - were injured as hoarding around part of Cirencester Parish Church blew down and hit them.
High winds also damaged part of the roof at the new home of St Helens rugby league club on Merseyside.
The Super League side only recently moved to the new £20m Langtree Park ground.
The Torquay HiFlyer balloon was badly damaged by high winds hitting the bay earlier, despite it being strapped down overnight.
Parts of a village shop were reduced to rubble after high winds hit Oxfordshire. The shop in Chalgrove, was believed to have been damaged by storms at about 10:30 GMT.
Jo Donoghue, from Chalgrove Parish Council, said: "My son was in the shop at approximately 9am this morning so it is quite shocking to see it now."
A mobile home was destroyed and several other properties damaged by strong winds in Great Yarmouth, Norfolk.
Severe winds left 1,500 homes without gas when a maintenance shelter in Keighley was damaged and Northern Gas Networks said restoring the gas supply to Steeton, West Yorkshire could take days.
Southern Electric Power Distribution said the weather had caused fallen power lines throughout the South.
Strong winds also blew a stationary light aircraft on to its roof at Redhill Aerodrome in Surrey.
In Cumbria, high winds caused a truck to overturn on to the hard shoulder of the M6 southbound near Tebay, while another lorry was blown on to its side on the A66 in County Durham.
Stranded yacht
In the South West, the Tamar Bridge was closed to high-sided vehicles, but the restrictions were later lifted. Cornwall has also seen two school closures and train and ferry services disrupted by the weather.
High winds also forced the closure of the QEII Bridge, linking the M25 between Essex and Kent, earlier. It has since reopened.
A 90-year-old woman was led to safety by fire crews after a tree fell on her house near Sevenoaks, Kent. She was uninjured but was seen by paramedics at the scene.
A fallen tree has damaged three cars and a wall in Havant, Hampshire.
Meanwhile, in Berkshire, a passenger train hit one of three trees that fell on a railway line at Mortimer, which led to rush-hour delays of up to 45 minutes.
Devon firefighters carried out several rescues from cars which had become stuck in floodwater, including helping a woman and two children whose vehicle was stuck in 1m (3ft) deep floodwater at Newlands Bridge, North Tawton.
And two Environment Agency employees waded into floodwater to help a driver whose car was swept away near a swollen ford in Chew Stoke, near Bristol.
Elsewhere, seven people became stranded on a yacht five miles off Dover after the vessel lost power in 50-knot winds.
Dungeness and Dover lifeboats were called at 05:15 GMT to help the vessel Liquid Vortex, which was on its way from Southampton to London.
Five of the crew were suffering from sea sickness and one crewman had a possible injury to his jaw and ribs after a fall.