Nottingham homeless charity given £308,000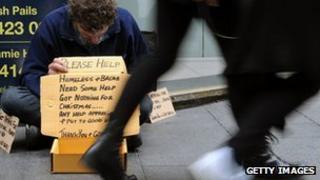 A charity has been awarded £308,000 to tackle the problem of migrants who become homeless in Nottingham.
Framework Housing Association said it was coming across increasing numbers of people who had moved to the city to find work but now had nowhere to live.
The charity is set to receive £248,000 from the government and £60,000 from Nottingham City Council over two years.
The money will be used to provide alcohol detox, support and offers of repatriation to homeless people.
Peter Radage, service director for Framework, said: "This group of people are not entitled to any benefit.
"They find themselves living with friends, sleeping on floors or sleeping on the streets.
"We are finding more and more people arriving on the streets," he said.
'Return home'
The charity said there were currently about 20 so-called "economic migrants" sleeping rough in Nottingham.
"We're going to use this money to prepare people to return home," Mr Radage said.
"Many of that population wish to. Our evidence suggests that once somebody has made up their mind they'll carry it through."
The grant is part of a £20m programme by the Department of Communities and Local Government to tackle rough sleeping nationally.
Framework Housing Association helps about 8,000 homeless and vulnerable people across the East Midlands and areas of South Yorkshire.