Appeal for identity of North East 'lumberjills'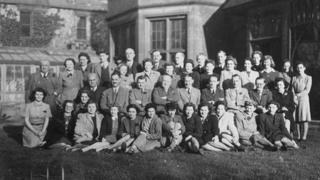 With their men away fighting for their country, thousands of women volunteered to do backbreaking work in the UK's forests during World War II.
Affectionately known as "lumberjills" the women toiled from dawn until dusk.
In the days before mechanisation and chainsaws, they used manual saws to chop down trees and load the timber on to trucks to be made into telegraph poles, road blocks and even crosses to mark the graves of fallen soldiers.
Last month the Forestry Commission started a campaign to track down these largely "forgotten" heroines - the youngest of whom would now be in their 80s.
Hundreds of women worked in Chopwell Wood near Gateshead through the war years, and the appeal prompted a man from Barnard Castle to send the commission a photo taken in 1941.
The faded snap shows 42 smartly dressed men and women posing outside a large building.
It is believed to have been taken somewhere in the North East and has Home Grown Timber Department written on the back - the organisation which set up the Women's Timber Corps (WTC) in 1942.
The man's mother is in the photo and she worked in Chopwell Wood.
Richard Darn, spokesman for the Forestry Commission, said: "It is a bit like detective work - we are slowly piecing things together.
"We know two women in the photo were definitely lumberjills.
"One still lives in Barnard Castle and the other is in Devon and we are trying to track her down. The men in the picture may have been training the women.
"Women from all over the country would have come to Chopwell and it was backbreakingly hard work.
"This was in the days before chainsaws and harvesters, so the women would have worked long hours while their husbands were away at the Front.
"We are fairly sure the picture was taken in the North East but we are not sure of the identity of the background building."
The Forestry Commission, working with Groundwork North East and the Friends of Chopwell Wood, is trying to track down as many lumberjills as possible for a heritage project.
They want to record their wartime stories and experiences for an exhibition and online archive.
Mr Darn added: "The contribution of the women to the war effort was invaluable, but they have largely been forgotten. There is no memorial to them in England.
"Help in identifying these people is desperately needed to record the experiences of these remarkable women."