Ashford-to-Hastings rail line closes until March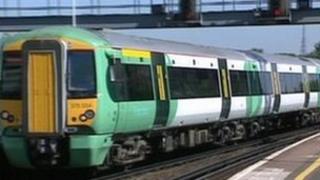 A railway line linking Kent and East Sussex has been closed for nine weeks to allow essential maintenance work on a tunnel to take place.
The line between Ashford and Hastings has been closed while work is undertaken to improve drainage and repair linings in the Ore Tunnel.
Network Rail said it was rescheduling other work to avoid further disruptions to passengers in the future.
During the work there will be a replacement bus and taxi service.
The work is scheduled to be completed on 9 March, said Network Rail.
Railway bridges at Doleham and Three Oaks are to be replaced, along with maintenance of the embankment between Ashford and Ham Street.
There will also be maintenance on bridges and culverts between Ashford and Hastings and track improvements between Rye and Hastings to enable the line speed to be increased in future.
Fiona Taylor, from Network Rail said: "There is never an ideal time to carry out this scale of work and after seeking the views of community and business representatives we were keen to avoid the summer months which are so important for the local economy.
"[We] are confident the improvements we are making are the first step towards cutting journey times."
Passenger Focus said engineering works were necessary for the maintenance and improvement of the railway.
Amy Bradley said: "This is a very long closure for works and will be a major inconvenience to passengers.
"We're pleased that Southern have decided to reduce fares and give partial refunds to passengers using this line.
"It will be essential that rail replacement bus and taxi services are reliable."