Network Rail's £200m overhead cable work in East Anglia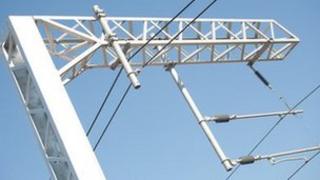 Buses are replacing trains on the main line between London and East Anglia as more overhead cables are replaced.
The latest phase of Network Rail's £200m project will affect the line between Shenfield and Witham after 22:30 GMT on Mondays-Wednesdays until 21 March.
Work will resume after the Olympics on 17 September.
The existing overhead cables are 60-years-old. Work will be suspended for the Olympic and Paralympic events.
Dave Ward, Network Rail's route managing director for East Anglia, said: "There's a rather big sporting event on in the UK in the summer and therefore the push has been on to get some of the critical stuff done ahead of that.
"Once it's complete the equipment will be much more resilient to extremes of heat and it'll be fit-for-purpose for any new rolling stock."
2014 target
Neil Skinner, chairman of the Manningtree Rail Users Association, said: "It's work that desperately needs to be done and there's no easy way of doing it without inconveniencing passengers.
"The infrastructure in this neck of the woods is so worn out that [disruption] is something we're going to have to live with.
"Hopefully when they're replaced, delays will be minimised."
Network Rail is suspending all major engineering work for an 11-week period between late June and early September while the Olympics and Paralympics are on.
The company said it is due to finish replacing all the overhead cabling between London Liverpool Street and Chelmsford by 2014.