Joint funeral for victims of Horden gunman Michael Atherton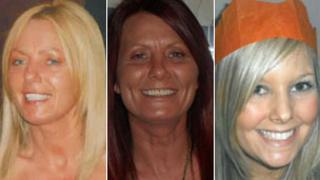 A joint funeral for the three victims of Horden shotgun killer Michael Atherton has taken place.
The private service saw his partner Susan McGoldrick, 47 cremated and her sister Alison Turnbull, 44, and her niece Tanya Turnbull, 24 buried.
They were killed on New Year's Day by the County Durham taxi-driver who then shot himself.
Durham Police said a funeral for the 42-year-old gunman was due to be held on Thursday.
Following a search of the semi-detached house near Peterlee and Mr Atherton's car, police recovered six firearms which he was legally entitled to hold on his shotgun and section one firearms certificates.
Three air rifles and one air pistol were also recovered from the property.
The Independent Police Complaints Commission (IPCC) is investigating after it emerged Durham Police confiscated his weapons for a time in 2008 when he allegedly threatened to kill himself.
Officers said Mr Atherton and Ms McGoldrick had a "volatile relationship". Police dealt with four domestic violence complaints in a two-year period.
Mr Atherton had been out on New Year's Day separately from his partner. It is believed that following a row, Mr Atherton left the room to get a shotgun from his car and shot his victims, before turning the gun on himself.
An inquest into the deaths has been opened and adjourned.