Eric Pickles' Olympic dream?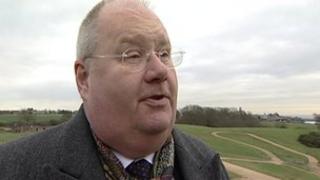 The Communities Secretary and Essex MP, Eric Pickles, has made the journey to the coast to see the county's Olympic mountain biking course for himself.
From the top of a windy ridge - the Communities Secretary surveyed the course below him.
Had the sight of the cyclists struggling round filled him with Olympic fervour?
"Um. Well. This is my first time. I could tell you that this is my life's ambition, to see mountain biking, but I am certainly going to come and see this," he ventures.
Olympic favourites
In less than seven months the blustery hillside will be packed with cyclists and spectators from around the world.
The government is keen to highlight how much the Olympics will be worth to the east of England.
So far 400 companies in the region are doing Olympic work.
So what is the Brentwood MP's Olympic favourite?
"Probably showjumping," he smiles.
"I just love showjumping."
So now you know.