Ex-marine Steven Greenoe jailed for gun smuggling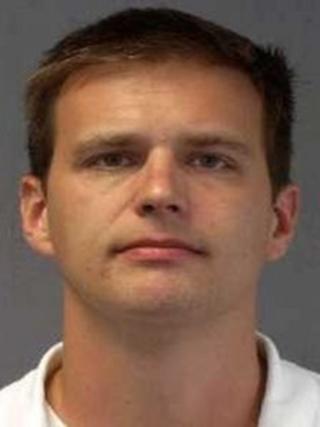 A former US marine who once worked as a bodyguard for celebrities has been jailed for smuggling guns into north west England on commercial flights.
Steven Greenoe, 37, of Raleigh, North Carolina, bought the guns in the US, broke them up and hid them in his bags.
At a federal court in Greenville, North Carolina on Tuesday, he was sentenced to 10 years in prison.
In November, Steven Cardwell, 31, from Liverpool, was jailed for selling the guns on to UK criminals.
US Attorney Thomas G. Walker said: "This was an international investigation into illegal firearms trafficking and firearms smuggling.
"Illegal firearms smuggling poses a danger to the public, and our office will prosecute such cases vigorously."
'Walter Mitty'
Brock Nicholson, special agent in charge of US Immigration and Customs Enforcement's (ICE) Homeland Security Investigations (HSI) in Georgia and the Carolinas, said: "By seeking to circumvent both US and UK laws to illegally export firearms, Mr Greenoe has potentially put the safety of countless law-abiding British citizens at risk.
"Thanks to investigative assistance from the Bureau of Alcohol, Tobacco, Firearms and Explosives (ATF), in addition to the aggressive prosecution by the U.S. Attorney's Office for the Eastern District of North Carolina, Mr Greenoe will now be held accountable for his crimes."
Greenoe, described by police as a "Walter Mitty" character, was arrested at Raleigh Durham International Airport when an arsenal of 16 weapons was found in his suitcase.
Liverpool Crown Court heard that weapons linked to the conspiracy were used in at least one fatal shooting in the UK.
Photos with stars
The court in America was told that Greenoe smuggled 63 pistols on nine trips to the UK between February and July 2010.
He bought the guns in North Carolina and then travelled to Manchester Airport directly or transferred through New York, Atlanta or Los Angeles.
The broken-down gun components were hidden inside his hold luggage.
Greenoe is a US citizen but he had indefinite leave to remain in the UK because his then wife is British. They are now divorced.
His ex-wife told the court he had worked as a bodyguard to A-list celebrities.
She had seen photographs of him in the company of stars including George Clooney, Matt Damon and Madonna, which had been posted on his Facebook page, she added.