New Year, new show, and what lies ahead for the north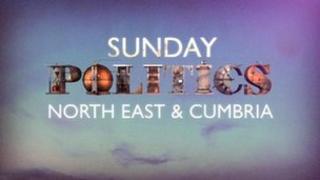 It was always tempting fate to start a new political programme in a week containing a Friday the 13th.
But it has been an odd build-up to our first edition of Sunday Politics.
I was laid low by flu, and then when I tried to get back to work, I had a tyre blow on my car. I wonder if someone's trying to tell me something!
Nevertheless, to mix metaphors, despite all the hurdles I am sure we will be firing on all cylinders when the programme is broadcast on Sunday.
New look
The new programme replaces the Politics Show in the schedule, with the 20-minute North East and Cumbria section supplementing what's on offer from Andrew Neil in London.
We've got a new look, a new set, a new theme tune, and a new format. Sadly, though in this part of the world it's the same old presenter (assuming I avoid any more germs and motoring incidents).
It marks the start of what promises to be another intriguing political year.
There is already much to chew over for the north.
As the English region right next to Scotland, people in Cumbria and the North East will be watching events there carefully, as Alex Salmond edges the country towards a vote on independence.
This week has also seen the Commons debate the possibility of local pay bargaining in the public sector - something which could affect hundreds of thousands of staff in the region.
Our councils are also beginning to get to grips with next year's budgets and decide whether or not to respond to government pressure and freeze council tax for a second year in succession.
There are plenty more stories ahead though.
Green shoots
The fate of the economy will still dominate the headlines, with most expecting unemployment to continue to rise across the region for much of 2012.
The government will be hoping though that more green shoots also appear.
SSI should be reopening the steel blast furnace in Redcar within weeks, Sir Richard Branson has already talked of expansion at what was Northern Rock.
This should also be the year we see a new train factory built in Newton Aycliffe.
In addition, the push for green jobs will continue in Teesside and on the banks of the Tyne.
There will be more money doled out from the government's Regional Growth Fund, and the North East's enterprise zones will begin operating in earnest.
Alcan though will close its aluminium smelter in Northumberland, there's continuing uncertainty about whether Durham-Tees Valley Airport will remain open and thousands more public sector jobs will go as the cuts continue.
There will be continuing concern about the need for more transport infrastructure investment in the North East too.
And all businesses will be watching events in Europe, as that could pull the rug on any hope of recovery.
May elections
Many individuals will see big changes to their benefits this year too, while there will be some focus on whether the region is getting a good deal out of the Olympics.
May will see the usual round of local elections. Council seats in Tyne and Wear, Hartlepool, and parts of Cumbria and North Yorkshire will be up for grabs, but there's unlikely to be much dramatic change.
Greater attention might focus on the elections for new police commissioners in each force area - candidates for that are already coming out of the woodwork.
In Newcastle, voters will also get to decide whether to have an elected mayor. The government's keen, but there's not much sign of a grass roots campaign in favour just yet.
Our MPs will probably have to wait till the autumn to find out the fate of their constituency boundaries.
The Boundary Commission is currently studying all the submissions it took from politicians and public last year. They will be published in the spring with any revised proposals published later in the year.
For the Conservatives and Labour, the fate of Stockton South will be crucial in the North East.
In Cumbria the Commission will also have to decide whether it still wants to create a Kendal and Penrith seat which could pitch Lib Dem President Tim Farron up against ambitious young Conservative Rory Stewart.
Labour leadership
Many of our MPs will also be focusing on mastering their briefs though, as the 2010 intake of Chi Onwurah, Catherine McKinnell and Jenny Chapman try to take on the government on industry, children's issues and prisons respectively.
Inevitably though there'll be a great deal of attention on a Labour MP who's out of the front line at the moment.
David Miliband now looks set to stay in South Shields at least till the next election. But with questions growing about his brother's leadership, more people will be wondering whether his long-term destiny might still be at the top of his party.
Westmorland and Lonsdale's Tim Farron will also be watched closely to see how he might position himself as a potential successor to Nick Clegg.
North East MEP Martin Callanan could also have a big part to play in the on-going Euro fallout as the leader of sceptics in the European Parliament.
All of this then will be meat and drink for Sunday Politics as 2012 progresses.
I hope you'll join me every week then starting from Sunday 15 January at 12pm on BBC1.