Cornwall drugs debt pair burned and buried on farm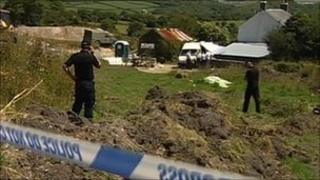 Two drug dealers were shot dead and their bodies burned and buried on a remote Cornish farm, a court heard.
Brett Flournoy, from Merseyside, and David Griffiths, from Berkshire, were killed at Ross Stone's farm near St Austell, Truro Crown Court was told.
Mr Stone owed the men a drug debt of up to £40,000, the court heard.
Mr Stone, 28, and Thomas Haigh, 26, formerly of Huddersfield, West Yorkshire, have pleaded not guilty to two counts of murder.
Mr Haigh was described as a drugs courier who had previously been sent to buy drugs in Brazil.
He also owed the dead men money but had been sent by them to live on Mr Stone's farm until the debt was repaid.
Truro Crown Court heard that on 16 June last year, Mr Flournoy and Mr Griffiths travelled to Mr Stone's home in Trenance Downs to see him and Mr Haigh.
Shortly after they arrived, they were both shot dead with a shotgun. Their bodies were then burned in a van which was then buried in a 2.4m-deep hole.
Paul Dunkels QC, prosecuting, said: "It is the prosecution case that these two men were jointly involved in the murder of these two men.
"One of them may have pulled the trigger of the shotgun but they were both in it together."
Mr Flournoy, a light-middleweight who had appeared on Sky's Prizefighter series, was a father of two from Bebington, in Wirral.
Mr Griffiths, a father of three originally from Plymouth, Devon, was living in Bracknell, Berkshire.
They were reported missing by their families but their bodies were found when police traced their mobile phone records.
The case continues.