Serial distraction burglar William Vinson jailed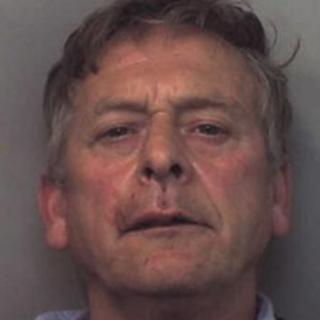 A prolific distraction burglar who targeted elderly victims across central southern England has been jailed.
William Vinson, 59, from Oxfordshire, admitted 11 burglaries but asked for a further 90 to be taken into account.
He carried out offences in Oxfordshire, Wiltshire, Berkshire, Buckinghamshire, Northamptonshire, Gloucestershire, Warwickshire and Leicestershire.
He was jailed for nine years. One of his victims, from Oxfordshire, said she was now "terrified" to go out at night.
Sylvia, 77, who did not want to give her surname, said Vinson told her he was from the electric board and asked to see a bill before following her into her home in March 2010.
She said: "He'd just taken everything out of my bag.
"I walked towards him, which I shouldn't have done, and he threw my bag at me and smacked me in the face with it and ran off.
"I chased after him but I only got to the second bungalow and collapsed, he was gone."
'Utterly contemptible'
Vinson had stolen £500 in cash and a number of personal items, including treasured photographs of Sylvia's husband and family.
Vinson, of Cotswold Terrace, Chipping Norton, admitted 11 charges between October 2010 and November last year. He asked for 90 other offences to be taken into consideration when he appeared at Oxford Crown Court.
The operation to catch Vinson was led by detectives from Thames Valley Police (TVP) in partnership with Wiltshire Police and the national distraction burglary unit.
Det Insp Mark Johns, from TVP, said: "The type of crime carried out by William Vinson is utterly contemptible and among the most upsetting for victims to come to terms with.
"He targeted the most vulnerable people in society, pretending to be a new friendly neighbour or a workman from one of the utility services in order to gain their trust.
"Once he had done so, he stole cash and valuables, destroying lives and causing distress and misery in order to benefit himself."
Detectives described Vinson as a "coward" because a large number of his attempted burglaries were foiled when he was "scared off" when the victim refused to open the door or called a neighbour or relative.
When Vinson was convicted, Recorder Andrew McCooey said: "You are a vile, despicable person preying on these vulnerable victims.
"Goodness knows what untold damage you have done to these people."