Nottinghamshire A453 to shut overnight for month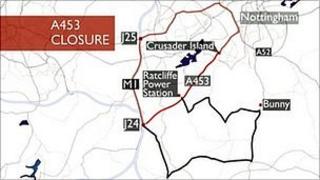 Closing a main route between Nottingham and the M1 overnight will hurt business, road hauliers have said.
Six miles of the A453 from the city to Junction 24 is being shut for four weeks from 22 January for resurfacing.
The Road Haulage Association (RHA) said the long diversions would waste time and cost up to an extra £45 in fuel.
The Highways Agency said the £1.68m project was needed to prepare for the road to be widened into a dual carriageway in 2015.
Diversions will be put in place from 20:00 GMT, at the earliest, to 05:30 GMT, at the latest, to minimise extra congestion, the agency said.
Project plans
Motorists going into Nottingham will face a 15 mile (24.1 km) diversion via the A52, while traffic going to Ratcliffe-on-Soar power station will travel along an 18 mile (30 km) diversion which passes through a number of small villages.
Frank Taylor, from the RHA, said: "Normal (fuel) consumption is about eight miles to the gallon but on the diversion that is probably going to drop to about four and a half.
"So that is going to add £25 to £45 to the cost of the journey, depending on the type of vehicle operating.
"The large hauliers may be able to absorb it but the smaller haulier will struggle and will have to raise surcharges to the customer."
In a statement, the Highways Agency said: "The resurfacing is needed before the road widening begins in 2015.
"The widening will take two and an half years to complete and for most of the time the existing road will be in use."
Full details of the closure can be found on the Highways Agency website.