Canterbury Crown Court: Four guilty of £50m drink fraud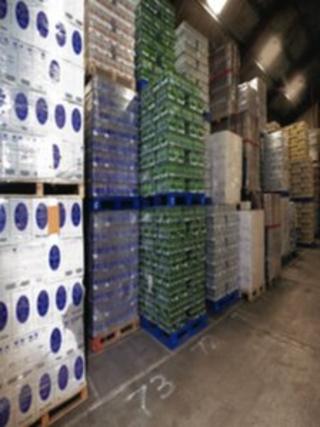 Four men are to be sentenced for their part in a massive £50m tax scam, after a trial at Canterbury Crown Court.
The men used their drinks trade contacts to conceal hundreds of lorry loads of alcohol being moved onto the UK market without paying tax or duties.
Kevin Burrage, 49 and Gary Clarke, 55, of Essex, were convicted on Thursday of conspiracy to cheat the public revenue.
Michael Turner, 52 and Davinder Dhaliwal, 32, both of Kent, pleaded guilty to cheating the public revenue.
A fifth man was acquitted on Friday.
'Diversion fraud'
Investigators said the men fraudulently creamed off at least £50m a year in the scam to fund lifestyles that included top-of-the-range cars and luxury homes.
"Diversion Fraud" is estimated to have cost the exchequer in excess of £1bn a year.
The men used Burrage's chain of bonded warehouses as a front.
The bonded warehouse system allows licensed traders to import and export alcohol under "duty suspension", the taxes and duty only becoming payable when the drinks are delivered to market.
Burrage and his associates falsified paperwork, created duplicate shipments and even "ghost" lorries to conceal their activities and lay a false trail of bogus trading.
Instead of legitimately importing and exporting the alcohol, via EU markets, they sold it on in the UK pocketing the duty and tax that were payable.
The scheme was so elaborate that investigators from HM Revenue and Customs believe it required the synchronised participation of a considerable number of individuals including UK and European retailers, freight forwarders and myriad "front" or "buffer" companies.
'Lengthy surveillance'
George Barbary, specialist fraud prosecutor at the Crown Prosecution Service, said: "These fraudsters have undermined honest and hardworking retailers, as well as British taxpayers.
"We would all rather see the money these people stole being spent on schools and hospitals instead of being pocketed by criminals to fund luxurious lifestyles with expensive houses, jewellery, holidays, and cars, including for these defendants, highest specification Mercedes and a sports Bentley."
The case involved investigators from the UK working with their counterparts from eight other European countries and involved lengthy surveillance operations.
It is said to be one of the first cases where the authorities have deliberately targeted the owner of a bonded warehouse at the centre of the scam.
Sentencing of Kevin Burrage, of Ravendale Way, Shoeburyness; Gary Clarke, of Maplin Way North, Southend; Michael Turner, of Merchants Place, Folkestone and Davinder Dhaliwal, of Landale Gardens, Dartford, is due to take place on 10 February.