Phantom fighter jet to return to former Wattisham base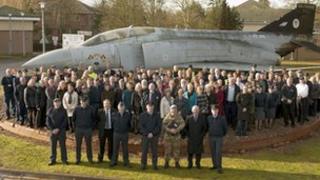 A former RAF fighter jet is to return to its former base in Suffolk after nearly two decades to be restored.
The Phantom XT914 was one of the last RAF aircraft to be based at Wattisham Airfield before the station was handed over to the Army in 1993.
The jet is being moved from its present home at the entrance to RAF Brampton in Cambridgeshire to the Wattisham Heritage Museum.
It will be broken down into sections so it can be transported by lorry.
The Phantom was used by the Royal Air Force's 74 (Tiger) and 56 (Firebirds) squadrons at the Suffolk airfield before it was retired from service in 1992.
'Original home'
This example went on to stand as "gate guardian" at RAF Leeming in North Yorkshire before heading to RAF Brampton in 1997.
It is being moved because the base is set to close in 2013.
Station commander, Wing Cdr Robert Cook, said: "It is very sad to see the Phantom go.
"However it is part of the continuing draw down of personnel and equipment leading up to the station's eventual closure.
"I'm delighted it will not be scrapped but will return to its original home."
Wattisham Heritage Museum curator Maggie Aggis said the aircraft would undergo refurbishment before going on display at the airfield.
She said: "I remember when the Phantoms flew at Wattisham, so it will be lovely to have this one back home."