Can the Big Society cope running youth services?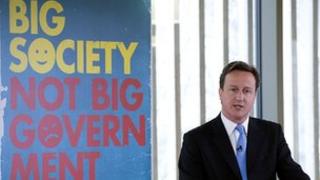 At the Providence Street Youth Centre in Kings Lynn, you can see the Big Society at work.
For many years this has been the place where young people in North West Norfolk have come to play.
There's also a chance for some of them to seek help and advice.
For young carers, it was a break for the evening and for those who would normally spend evenings in the park or shopping centre it was somewhere better to go.
Voluntary action
But then Norfolk County Council decided to cut more than £4 million from its youth budget and Providence Street became one of the casualties.
"It was devastating, people were gutted," says Carly Hain, one of the volunteers who worked at the centre.
"They had relied on this place for so long - it was somewhere for them to escape to."
"We didn't want the children to suffer because of the cuts," says Jo Jones, whose son goes to the centre.
"So we decided to do what we could to keep it open."
One of the youth workers who was being made redundant, Tracy Spearing, decided to set up a charity to take over the centre. For the last year, when she's not been looking for work, she's been overseeing its running.
And so despite all the fears of the local community, young people can still come to the centre for sports, to play computer games, draw pictures and chat to their friends.
"We've got 65 people on the books," says Tracy.
"It shows this service is still needed."
'Hand to mouth'
The centre used to be open three evenings a week; now it's only open on a Friday.
"It's not enough but it's the best we can do at the moment," says Jo Jones.
"None of the committee members are trained, except for Tracy. We just get together and do what we can."
"We used to go on residential weekend camping trips or horse riding," says Carly Hain.
"We used to have the funding to let them do things they normally wouldn't experience in normal life, but we can't do that now."
A lot of the last year has been taken up with fundraising.
A local band has become their patron. The centre has also been successful in applying for grants.
The county council is allowing them to use the building rent-free for a year, and it has also given them £6,900 to cover some of their costs and to train up staff.
"It's hand to mouth but we will fight tooth and nail to keep it going and to open on more evenings," admits Jo Jones.
Sustainable model?
This is what Norfolk County Council hoped would happen to youth services.
Unable to afford to provide them anymore, it wants to encourage the voluntary sector to take them over.
In return it will offer a little financial support.
It's about to launch a series of Youth Advisory Boards which will oversee the commissioning of services in an area and share best practice.
"The model we're producing is very sustainable and will protect youth services from future cuts," says Councillor Tom Garrod, who's overseen the changes.
"I think the youth service will flourish under this new system."
But does he worry that volunteers may run out of money or lose interest?
"These are local people working for their local community - they have passion, they won't give up," he believes.
Across Norfolk youth clubs have been taken over by parish councils, volunteers and local churches and most have stayed open.
It is a precarious situation. Carly Hain says she worries that it will become harder to raise money as the economy worsens and people have less money to give but, like the rest of the volunteers, she refuses to give up.
"I keep going for the young people who enjoy coming here. That's such a big reward and that inspires me to keep on going."