Luton Airport announces expansion plans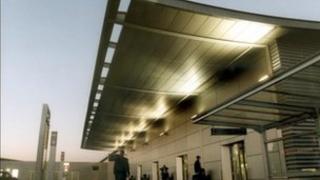 Luton Airport has announced plans to almost double the number of passengers its handles, a move which it says could create as many as 6,000 new jobs.
This dramatic announcement is a bold attempt by local politicians in the town, who own the airport, to create jobs and boost the economy.
Cllr Robin Harris says: "We're at the very beginning of a journey that builds on the tremendous success we have seen through the last decade and will ultimately bring huge benefits to Luton and the wider region - with jobs and much needed income."
Market demand
These plans have been 18 months in the making.
Luton Borough Council has been looking at ways to increase capacity at the airport and create more jobs in the town.
And with the government keen to see more capacity in the South East without the need to build or extend runways, this idea is bound to get the go ahead.
The airport, which will handle around 10 million passengers this year, will be asking for permission to take this up to 18 million.
"We will consult actively and listen carefully ahead of submitting a planning application but we must be ready to embrace market demand in the future," says Cllr Harris.
"The benefits that will flow from the airport's development will be realised in the local, regional and national economies."
European market
There will be a few people who will object but, unlike Stansted, there is no well organised lobby group opposed to development.
The airport is promising to be a good neighbour and manage responsibly the impact of extra noise and traffic.
It's not yet clear where the extra passengers will come from.
The European market is fairly depressed at the moment and there is little demand from intercontinental carriers to go to Luton.
The airport, which is the headquarters of easyJet and popular with other carriers like Ryanair and Wizz Air, will be hoping to grow its low cost traffic (something which could provoke intense competition with Stansted).
But it is also hoping that its fast rail links to London will prove popular with the business community.
In political circles at the moment there is a strong feeling that if you grow your infrastructure, you'll grow your economy.
That is what Luton's politicians are banking on.