Tending the grave of a stranger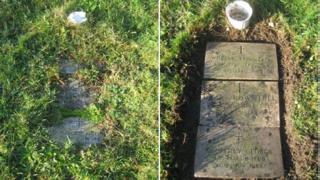 On a crisp, sunny January day, Francesca Watson travelled seven miles to an East Sussex village to tend to the graves of three people she had never met.
Ms Watson scraped soil and grass off the flat gravestones which were overgrown and barely visible inside Wadhurst church's cemetery.
Ms Watson, from Tunbridge Wells, is among a growing number of volunteers taking part in a scheme which matches people unable to look after a relative's grave with those willing to help.
Tendagrave was launched last year by Jenny Barsby-Robinson, a Kent journalist who found it difficult to maintain her grandparents' grave more than 100 miles away in Suffolk.
Ms Watson, a charity magazine editor, had wanted to do more for the community for a while and this project appealed to her.
"I think it's a great idea and so simple and philanthropic. There's nothing to be gained apart from doing something to make someone feel more reassured that people haven't been forgotten," she said.
Graveside words
She said she was not religious, but believed people lived on in their family's memories and that it could make the "world of difference" to them to know relatives' graves were cared for.
Through the website, the 41-year-old agreed to tend stones marking the ashes of the grandparents and father of Sarah Huxford, who lives in Berkshire.
After scrapping off soil, Ms Watson cleaned the plaques with water, making the three names clearly visible again.
"I made it look nice and tidy. On my next visit I'll take a little primula in a pot, as there is room for one," she said.
She then said a few words at the graveside, saying: "I am here on behalf of your granddaughter."
Ms Watson said: "I thought it was respectful to formally introduce myself."
She went with her father to Wadhurst and said it was a "glorious day", adding "I'd forgotten what a lovely village it is".
They could not find the graves at first, but knew they were near that of a resident killed in the Hither Green rail crash of 1967.
An elderly woman helped them find the plaques and explained the history of the crash.
"I gained a lot that day," Ms Watson added.
'Felt guilty'
The graves originally had standing stones but were re-sited after a nearby yew tree was uprooted during the storm of 1987.
Ms Huxford, who moved from Wadhurst in the 1970s, said the flat stones had become "really difficult to look after" and visiting the site took a full day.
"I felt guilty about it to be honest," she said. "I though gosh I really want to go down there.
"But it's good there are people doing this who have that sort of time and energy."
Her grandparents died in 1969, and her father, a verger at Wadhurst church and local publican, died in 1983.
Her mother, who lives in a Berkshire nursing home, was also delighted the graves of her parents and husband were being looked after, she added.
In turn, Ms Huxford is looking after three graves through Tendagrave.
"I'm pleased that I could contribute too," she said.
Ms Barsby-Robinson said people "really seemed to like" the initiative and about 250 people had now registered with the site.
A friend had helped care for her grandparents' grave, but after she moved to Australia there was no-one to help.
'Old-fashioned'
Ms Barsby-Robinson said it was important to her the grave looked nice all year round and she had put a notice in the church requesting help, but to no avail.
Through the altruistic site she had found a tender and helped others too.
"It just means a lot to me that people know they were loved and wherever my grandparents are they can see we still care about them and think about them," she said.
Ms Barsby-Robinson said she had been surprised people had volunteered to help who did not need graves tending in return.
The site has also attracted interest from people overseas with UK relatives.
James Martin of Frimley, Surrey, has begun tending graves of relatives of a family who have moved to Spain.
A former lifeboat man, he was looking for a new volunteer role and said he loved being practical as a change from his desk job.
Mr Martin, 43, a purchaser for a sports firm, said: "I'm quite old-fashioned and for me it was respectful and about being there to do something."
He tidied the graves with his family and said his children had enjoyed being involved in something "completely unusual" and had asked lots of questions.
"My 13-year-old daughter Aliscia really wants to be involved and now wants to buy flowers with her pocket money," he added.