Devon and Cornwall Chief Constable Stephen Otter to leave job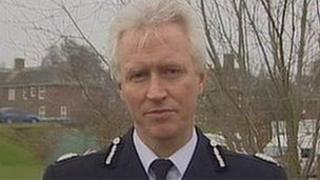 Devon and Cornwall Police Chief Constable Stephen Otter is to leave his position.
The force has confirmed he will move to Her Majesty's Inspectorate of Constabulary.
He joined the force in 2007 having previously served in the Metropolitan Police, Hong Kong Police, Home Office and Avon and Somerset Police.
In a statement, Mr Otter said he would "miss leading policing in Devon and Cornwall".
'Mixed feelings'
He said: "I am extremely happy with the policing achievements in Devon and Cornwall during the past five years and I have been really encouraged by the dedication and commitment I have seen from officers and staff.
"The results and improvements are a direct result of their hard work and determination to deliver the best possible service to the local communities.
"Whilst I look forward to my new challenge I will also miss leading policing in Devon and Cornwall."
The force said it had anticipated losing Mr Otter as his fixed-term contract was due to expire at the end of the year.
His contract could not be extended due the introduction of a police and crime commissioner position which comes into being in November.
Chairman of Devon and Cornwall Police Authority Mike Bull said: "I would like to firstly congratulate Steve on his appointment but naturally my feelings are mixed.
"He has led the force through exceptional challenge and change, both financially and culturally, over the past five years."
He added that Mr Otter's leaving date was yet to be arranged and it would announce the "arrangements around the organisation's leadership once this has been decided".
Industrial relations
Nigel Rabbitts, chairman of Devon and Cornwall Police Federation, said he wished Mr Otter well. "However, the force is going through major change at this time and we need strong leadership," he said.
"My members are critical of the actual system and the fact that the introduction of the police and crime commissioner means that we will not have a new chief constable appointed at this time."
Karen Williams, from Unison, said: "His tenure in the role has been remarkable by the fact that we've had very encouraging industrial relations.
"We are worried about what happens from here, we know that there's likely to be a significant gap in the leadership.
"What is really important to us is the spirit of industrial relations continues so our members continue to trust their employer to help them at such a difficult time."
The force said Shaun Sawyer, Mr Otter's deputy, would take over during any interim period.
Mr Otter also represents the Association of Chief Police Officers on race and diversity.