Great Yarmouth deaths: Suffolk victims' families 'moving forward'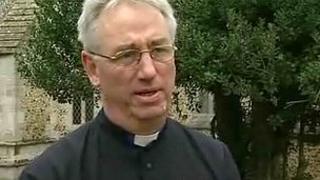 The lives of the families of four men from Suffolk who died when a steel structure collapsed are "moving slowly forward", a local vicar has said.
Brothers Thomas and Dan Hazleton, Peter Johnson and Adam Taylor died while working at Claxton Engineering in Great Yarmouth, Norfolk, in 2011.
Reverend David Messer, of All Saints' Church, Stanton, Suffolk said the community were "incredibly supportive".
An investigation is continuing into the cause of the deaths.
Acting as spokesman for the four families, Mr Messer, who conducted the funerals of three of the men, said the anniversary was proving a "hard time", but said they had all shown "considerable strength".
The men - aged between 26 and 42 and who lived in Stanton and nearby Rickinghall in north Suffolk - were digging foundations for an extension when they died.
The cause of death for all four men was asphyxia due to trauma, a post-mortem examination revealed.
An investigation by the Norfolk and Suffolk joint major investigation team and the Heath And Safety Executive (HSE) began following the incident on 21 January.
A police spokesman said officers and the HSE were still trying to establish what had happened, stating it was a "complex and detailed process".
Memorial being designed
Mr Messer said thousands of pounds had been raised by the village communities to help the families, as part of a fund set up by the East Anglian Daily Times.
He said fundraising events had been held by Stanton Football Club, which had a connection to some of the men.
The Cock Inn at Stanton said it had raised £4,923 towards the Four Friends Memorial Fund in July by hosting a bike ride.
The newspaper reported in November it had raised a total of £34,009.
Charlotte Oliver, the partner of Thomas Hazleton, said some of the raised money was going towards two memorials in Stanton and nearby Rickinghall, where Mr Taylor lived.
The design is in the "early planning stages" at West Suffolk College in Bury St Edmunds, according to tutor Derek Johnson, whose students are helping the families to design them.
It is not yet known when they will be unveiled.
"The families have to agree on what they would like," said Mr Messer.
"They have some very good and positive ideas, but obviously they still need to be agreed and West Suffolk College has been working hard with some of their students to put together some ideas.
"The idea is that hopefully they would look very similar, but you never know what might come out of the discussions."
Mr Messer said he was "amazed with the generosity" of the local people and said it really showed how "communities can come together and support those who are struggling".