Student Bryony Balen skis 705 miles to south pole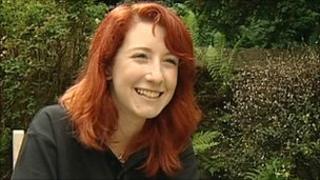 A student from Newcastle University has become the youngest Briton to ski the full distance to the south pole.
Bryony Balen, 21, from Melbourne in Derbyshire, skied 705 miles (1,100km) from the coast to the pole.
Miss Balen reached the landmark at about 19:30 local time (06:30 GMT) and is aiming to begin the journey home by plane on Saturday.
She said: "I'm very tired and very happy... it took 56 days, a day less than expected."
Speaking from the south pole, she said: "This has taken three and half years to plan and am so happy we're finally here. We skied for over 14 and a half hours to get here this morning.
"The preparation work has been phenomenal but it's all been worth it."
Earlier she tweeted: "Made it to the South Pole! Now a record breaker!"
Miss Balen, the youngest Briton to complete the full journey, skied for eight hours a day pulling a sled with a 60kg bag on her back containing food, equipment and a tent.
She celebrated her 21st birthday during the adventure.
Speaking before she went she talked about how the expedition had "consumed her life"
In December, Amelia Hempleman-Adams, 16, skied 97 miles to the South Pole with her explorer father David.
Miss Balen said: "I always knew I wouldn't be the youngest person to ski to the south pole, but I am the youngest to have done it from the coast.
"Fortunately, if the weather' s good we're on a flight back to Chile tomorrow and eventually home.
"I'm only 21, and to achieve this so young, I thinks it's safe to say I'll never have a boring life. I'll always have a project to be working on."