Bishop of East Anglia's ashes buried in cathedral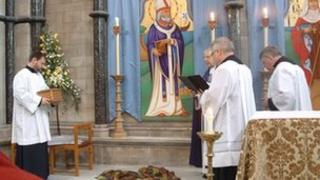 The ashes of the third Roman Catholic bishop of East Anglia have been buried in a chapel at the Cathedral of St John the Baptist in Norwich.
Bishop Michael Evans, 59, died in July 2011 after a long battle with cancer.
Diocesan administrator Fr David Bagstaff, who led the service, said it had been requested by the bishop.
About 200 people attended from all parts of the diocese, which encompasses Cambridgeshire, Norfolk and Suffolk.
The burial was delayed so that a suitable memorial stone could be made and to gain permission from historical church's groups and other authorities.
Bishop Michael, who was appointed in 2003 by Pope John Paul ll, was diagnosed with cancer two years later but stayed in his job up to his death.
His ashes were buried in front of an icon of Felix, a 7th Century bishop who was credited with bringing Christianity to East Anglia and who was made a diocesan patron saint by Bishop Michael.
At Bishop Michael's death two personal messages were sent from the Vatican, one from Pope Benedict XVl paying tribute to Bishop Michael's work in East Anglia and another from a joint commission that builds contacts between Catholics and other faiths.