Prison officer's family want retrial over Kevan Thakrar attack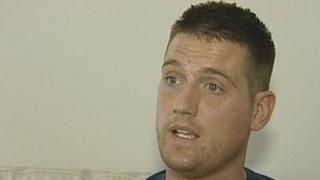 The family of a prison guard who was seriously injured when he was attacked by an inmate have called for a retrial.
Craig Wylde was attacked by convicted Hertfordshire killer Kevan Thakrar at Frankland Prison in Durham.
He admitted using a broken bottle to stab Mr Wylde and two of his colleagues but said it was self defence.
He was acquitted of wounding with intent and attempted murder. A 2,500 name petition has now been gathered calling for a retrial.
Mr Wylde's family have travelled to the House of Commons to meet Conservative MP Crispin Blunt, the Parliamentary under-secretary of state for prisons and probation.
'It's heartbreaking'
Mr Wylde's brother, Lee, 35, said: "Craig is in constant pain. It was a challenge trying to get him out of bed this morning to come here.
"It's heartbreaking to see him like this. To see what this has done to his life. It's devastating.
"After this, the next step is to approach the Ministry of Justice and say we'd like some questions answered, to see if we could get a retrial. We'll just keep fighting."
Mr Wylde was left unable to work and now takes 30 tablets a day to dull his pain following the attack.
His two colleagues Claire Lewis and Neil Walker have since left their jobs.
Thakrar, of Stevenage, Hertfordshire, was jailed for life for his part in the 2007 murders of three men and the attempted murder of two women in Bishop's Stortford, Hertfordshire.
He was cleared at Newcastle Crown Court in November 2011 of attacking the guards while a prisoner at Frankland Prison.
Thakrar, who must serve at least 35 years of his life sentence, said that previous prison experiences had left him with post-traumatic stress.
His family were unavailable to comment.