PIP breast implants: Woman wants free removal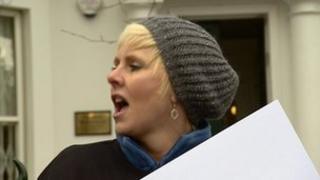 A woman has called on a clinic which fitted her with breast implants she fears could be faulty to remove them free of charge.
Janice Johnson, 42, of Stourport, was fitted with implants made by French firm Poly Implant Prothese (PIP) eight years ago.
Birmingham's Transform Clinic, where she had surgery, has not commented.
Ms Johnson joined three other women for a protest outside the clinic on Saturday.
She said: "I actually had a 10 year warranty, I am still in that 10 year warranty, why aren't they putting it right free of charge.
"Get the implants out of our bodies and we can all rest easier."
Ms Johnson paid £4,000 for the operation and said he had been told it would cost her more than £2,000 to get the implants removed.
About 40,000 women in Britain have had the implants, which contain industrial silicone not meant to be inside human bodies.
The three leading clinics which performed the operations are Transform, the Harley Medical Group and Surgicare.
All three have declined to offer free replacements for their patients.
The NHS has said it will remove implants it fitted for free.