Lichfield Cathedral unveils 'grotesque' fundraising idea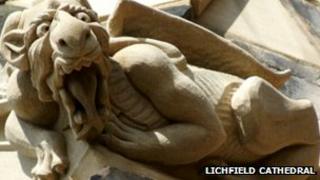 Fundraisers hoping to pay for repairs to Lichfield Cathedral have unveiled a "grotesque" way of raising cash.
Instead of sponsoring a friend or an animal, schools in Staffordshire and Shropshire can adopt a gargoyle.
The project aims to raise around £40,000 for the cathedral's East End Appeal.
It has undergone a major programme of essential repairs to its stonework and conservation of its 16th Century painted glass.
The Dean of Lichfield, the Very Reverend Adrian Dorber, said: "We've got a wonderful new set of 21st Century gargoyles carved in a medieval manner.
"As many children like to be both engaged and terrified, we thought this would be a really good bit of history and heritage for them to understand."