Nottinghamshire fire crews tackle eight Cinderhill arson attacks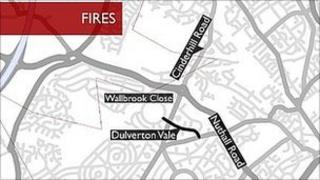 A series of eight fires in an area of Nottingham are being treated as suspicious, fire officials say.
Crews were called to tackle four tree fires and another four car fires within a hour in Cinderhill.
Nottinghamshire Fire Authority chairman Darrell Pulk said: "It is completely mindless … and a danger to property and to life."
The first call came at 23:30 GMT on Monday in Dulverton Vale and was handled by Stockhill fire station.
Firefighters also dealt with a further seven tree and car fires within a mile of each other in Cinderhill Road and Wallbrook Close.
A fire service spokesman said the fires were linked and would be investigated by police as arson attacks.
No-one was injured in the fires, Mr Pulk added.