Midlands manufacturing industry shrinking fastest in UK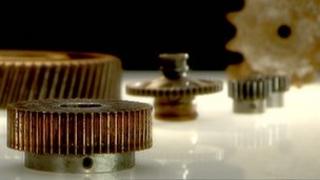 Ministers keep telling us we need to rebalance the economy: manufacturing industry must take the lead in delivering the recovery and even-out the glaring disparities between different parts of the country.
Latest figures from the Office for National Statistics reveal the sheer scale of the challenge they are setting themselves.
Between 1997 and 2010, manufacturing output in the Midlands dropped from £15.3 billion, at today's prices, to £11.8 billion.
That fall of 23% compares with a 10% shrinkage in North West England and 7% in the East Midlands.
It's the highest percentage anywhere in the UK.
Over that same period, our region's public sector grew by 77% and its finance and insurance services by 121%.
What a transformation!
Traditional industries
When I started covering the West Midlands economic scene, the Mini Metro was just entering volume production at the sprawling Longbridge car plant on the southern outskirts of Birmingham.
We were later to discover they were being made at a loss, but the motor industry clustered around Birmingham and Coventry still offered employment for great standing armies of workers.
So did the Potteries in north Staffordshire.
Stoke-on-Trent was the centre of a great industrial triangle: coal, and iron and steel and, of course, ceramics.
I remember covering a visit to one of the potteries by the TV entertainer and comedian Les Dawson.
He relished his golden opportunity to chat up some lovely ladies of uncertain years who were painting floral patterns onto plates in pretty much the same way that their mothers and grandmothers had done.
But I ran into trouble with some of the ceramics companies when my report for BBC Midlands Today that evening posed what seemed the increasingly urgent questions.
Were they. or were they not. updating their products and working methods to keep up with fast growing international competition and rapidly changing tastes?
At last firms like Portmeirion and Emma Bridgewater are doing exactly that.
But surveying the local economic scene, you realise this has been a lesson very painfully learnt.
Targeted assistance
I remember, too, those frosty mornings in Cofton Park near Longbridge in the days before secret strike ballots.
The mass shows of hands and Derek 'Red Robbo' Robinson's entoning his "carried unanimously" over the loudspeakers became emblematic of a strike-prone industry, increasingly dependent on state hand-outs, with which the country as a whole was running out of patience.
As the 1980s gave way to the '90s, what remained of Midlands manufacturing felt increasingly beleaguered.
One frustrated industrialist told me Tony Blair's ministers were fixated with the City of London. They saw it as "the next best thing after North Sea oil".
But they knew little and cared less about his kind of business, he said.
I recall a lobby briefing at HM Treasury when I asked about the possibility of targeted assistance for industries like ours.
"What is manufacturing as a proportion of GDP?" came the mandarin's dismissive reply. "21%? 22%?"
So these latest ONS figures may be seen as confirmation of what we had suspected all along.
And their sheer scale, compared with other regions, is an expression of the old truism that "the bigger they are, the harder they fall".
Encouraging signs?
All is not lost of course.
Jaguar Land Rover has turned the corner to run up profits of almost £1 billion a year, with thousands of jobs to follow.
Our region abounds with new, cutting edge businesses, although the rate of job creation is far out paced by the continuing loss of employment in the public sector.
There are encouraging signs that smaller 'supply chain' businesses who had been losing out to overseas competitors are now reclaiming their markets.
This is happening at a time when rising transport, environmental and unit labour costs in the Far East continue to squeeze the advantages enjoyed during recent years by the so-called 'tiger' economies of the Pacific rim.
And of course, an early resolution of the euro zone crisis wouldn't do any harm either!
These will be among our main talking points on this week's Sunday Politics, when I will be joined by the following guests:
Harriett Baldwin, the Conservative MP for West Worcestershire and a member of the Commons Work and Pensions Select Committee;
Michael Cashman, the former Eastenders' star, who is now better known as the Labour MEP for the West Midlands.
And I hope you will join me too, from 12.00 on BBC One this Sunday, 29 January 2012.
You can also follow me on Twitter.