South pole record breaker Bryony Balen back home in Derbyshire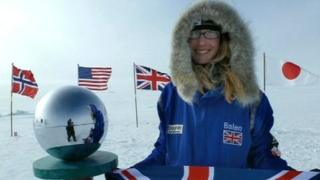 The UK's youngest person to ski the full distance to the south pole has returned to her home in Derbyshire.
Bryony Balen, 21, from Melbourne, reached the landmark on Friday after skiing 705 miles (1,100km) from the coast to the pole.
The Newcastle University student spent 56 days in the Antarctic, a day less than expected, in temperatures as low as -40C (-40F) to complete the trek.
Miss Balen said it was "surreal" to be back home in the UK.
"It hasn't sunk in that it's all over and I'm back to the real world," she said.
'Ultimate goal'
The former Nottingham Girls' High School pupil, who took a year out from university to attempt the challenge with five others, began her record-breaking Antarctic trip in November.
Miss Balen said that although reaching the south pole had been a "massive" highlight, it had not been her most memorable moment.
"Just after halfway through, we reached a mountain range called Thiel Mountains and I was just getting strong, got rid of the blisters and our team was moving really well," she said.
"That for me was the highlight, to be out there in such dramatic scenery, to be feeling good and to know that we've got less than halfway to go to get to the pole and the ultimate goal."
Miss Balen said it was "a bit strange" not to be skiing for 10 hours a day and pulling a sled with a 60kg bag on her back, but added she was enjoying the comforts of her home.
"I'm not complaining about the luxuries of being back home, nice cups of tea and chairs and tables," she said.
The former record was set by 23-year-old Andrew Cooney in 2003, who Miss Balen said had inspired her to take up the challenge.
"I wanted to become the youngest Briton to ski this route... and wanted to inspire people to get outdoors and raise some money for charity whilst I was doing it," she said.
Miss Balen said she now wanted to focus on recovering and completing her geography degree before her next expedition.
"I'm looking forward to putting weight back on and then I'm sure I'll have some adventure planned, but I want to get my degree finished and put a lot of work into that now for the final year," she said.
She said the expedition, which took three-and-a-half years to plan, had "consumed her life".
"I always knew I wouldn't be the youngest person to ski to the south pole, but I am the youngest to have done it from the coast," Miss Balen added.
In December, Amelia Hempleman-Adams, 16, from Wiltshire, became the world's youngest person to ski to the south pole.