West Yorkshire pair's 'emotional journey' to father's final resting place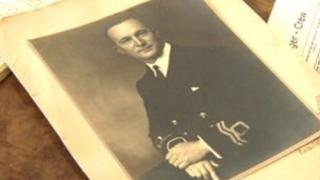 "It's a tragic story," says Tricia Hartley, from Wetherby, Leeds, of her father's final voyage on board HMS Niger, a minesweeper on one of the infamous World War II Arctic convoys.
Only weeks before his death on 6 July 1942, Lt Thomas Johnston had written to his wife and two children at home in West Yorkshire, saying how "barring accidents" he would soon back with them.
"Needless to say," wrote Lt Johnston, "we are all very glad and terrified that something will happen in the intervening period to stop us."
Just weeks later Lt Johnston - along with 148 other officers and crew on HMS Niger - died in the freezing waters of the North Atlantic.
'Worst journey'
As part of one of the British Arctic convoys, HMS Niger had just supplied the Soviet Union with crucial supplies and munitions.
The ship and its crew had faced the constant threat of German U-boat attack and was finally heading home.
"The ship was in the lead," explained Mrs Hartley. "They saw what they thought was land but it was, in fact, an iceberg and they turned into an English minefield."
HMS Niger was one of four ships in convoy PQ13 to hit Allied mines and sink about two miles off the coast of Iceland.
Not for nothing did British prime minister Winston Churchill describe the trips made by the Arctic convoys as "the worst journey in the world".
Between 1941 and 1945, more than 100 ships were lost with 3,000 sailors losing their lives as part of the convoys which transported more than four million tonnes of supplies to the Soviet Union.
'Unbearable wind chill'
It was not just the constant danger of attack which was faced daily by seamen on the convoys, as revealed in Lt Johnston's letters home.
Mrs Hartley said the weather was clearly as much an enemy as the threat posed by the U-boats.
"I don't know how they got through it," she said. "The cold was obviously a big factor."
"We have an extract from a letter in which he wrote about what he was wearing and it's quite incredible, the layers they had to wear," she said.
Peter Johnston, Mrs Hartley's brother, said it was clear from his father's letters home that the convoys were "not a happy place to be".
"The wind chill factor was enormous and it must have been unbearable," he said.
"There was no particularly fine clothing to withstand the cold. Then there was the wet and the lack of daylight."
No surprise, then, that Lt Johnston was so happy to be returning to Yorkshire.
Seventy years on from the tragic end to that journey home, Mrs Hartley and Mr Johnston hope to return to the spot off Iceland's coast where their father died.
The pair hope to lay a wreath in memory of their father and the other seamen who died in the North Atlantic on 6 July 1942.
Laying the wreath on the 70th anniversary of the tragic accident, Mrs Hartley said it would be "a very emotional journey".
And Mr Johnston said he knew it would be a "moving but satisfying occasion".
"We thought it would be nice to go back and recognise the people who had been on those ships," he said.