Absconder Daniel O'Loughlin arrested in Coventry hotel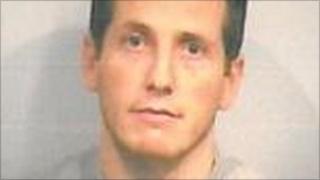 A prisoner who absconded from jail three years into an 11-year sentence for stealing antiques from country houses has been arrested in a hotel.
Daniel O'Loughlin was jailed in 2008 for his part in the burglaries in Wiltshire, Oxfordshire, Worcestershire and Berkshire.
The gang of five amassed a collection of antiques worth about £30m.
O'Loughlin failed to return to HMP Hatfield in South Yorkshire last July during a temporary placement.
The 35-year-old - who has strong links to Evesham in Worcestershire - was taking part in a work placement within the community, police said.
'Criminal family team'
He was apprehended in the early hours of Wednesday at the hotel in Coventry following a joint operation by Gloucestershire and West Midlands police forces.
Police said they had arrested him on suspicion of escaping lawful custody and he is being questioned at Cheltenham Police Station.
A 26-year-old woman from Cheltenham was also arrested on suspicion of harbouring an escaped prisoner in connection with the case.
O'Loughlin and his co-defendants are part of the Johnson family, who were described by prosecutors at the time of their trial as a "professional, criminal family team", who were "all operating as a joint team, and benefiting as a joint team".
The Lord Lieutenant of Berkshire and an advertising tycoon were among their victims.
They targeted a number of properties in Worcestershire including Spetchley Park, Ombersley Court in Droitwich, Cottage Garden Nurseries in Evesham and Broombank Caravan Park in Tenbury Wells, police said.
Five police forces - Thames Valley, Gloucestershire, West Mercia, Warwickshire and Wiltshire - were involved in the subsequent investigation.
Speaking about O'Loughlin's re-arrest, Det Insp Alastair Armstrong, from Gloucestershire Constabulary, said: "Locating O'Loughlin has been a difficult task."