Husband of MEP in nepotism row will not take Euro seat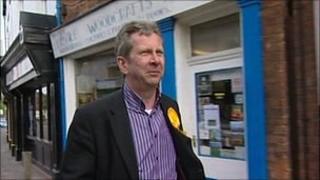 The husband of a Liberal Democrat Euro-MP, who became embroiled in a nepotism row, has said he is not taking her seat.
Diana Wallis announced last week she would be stepping down as a Lib Dem MEP for Yorkshire and the Humber.
Stewart Arnold was the party's second choice candidate in the region at the time of the last European elections in 2009, which would have entitled him to take over his wife's job.
The potential handover of power - without a single vote being cast - provoked accusations of nepotism from the couple's political opponents and from some in their own party.
What next?
However in a statement, Mr Arnold confirmed he would not be stepping into his wife's shoes.
Stewart Arnold said: "After a full consideration, I have made the decision not to take up the post of MEP for Yorkshire and the Humber.
"One of the contributory factors of Diana's resignation was her illness (as outlined in her letter of resignation) and I decided in the short term to give her the support she needs and not to take up the seat which would inevitably involve long periods away from home."
The seat vacated by Diana Wallis is expected to be taken by 36-year-old Rebecca Taylor from Todmorden in West Yorkshire, who was third on the Liberal Democrat party list in Yorkshire and the Humber in 2009.