Matthew Arnold archive dispute continues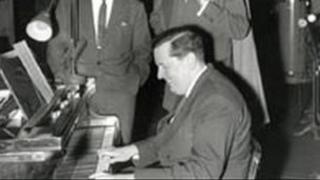 Two children of Oscar-winning composer Sir Matthew Arnold have disputed in the High Court that he left his manuscripts to a friend and carer.
Sir Malcolm Arnold was an alcoholic living in a pub in Northamptonshire in 1984 when Anthony Day "saved him from oblivion", the court heard in December.
On Monday, Mr Day said the composer had left him his manuscripts.
Katherine and Robert Arnold claim their father, who died in 2006 aged 84, had left the papers to them.
They argue that he was subjected to "undue influence" over his will, while Mr Day's barrister, Tom Dumont, has said Sir Malcolm knew what he was doing.
The court heard Sir Malcolm "gave them [the manuscripts] to him [Mr Day] either by way of gift on 5 August 1998, or by way of his will dated 25 July 1990".
But Sir Malcolm's children claim the collection, now held at the Royal College of Music, was given to them.
Creative spark returned
The Northampton-born composer, who wrote the score to the 1957 film Bridge Over the River Kwai, had been made a ward of the Court of Protection when Mr Day stepped in, the court heard.
The neighbour of a distant relative, Mr Day went on to live with and care for Sir Malcolm in Attleborough, Norfolk, with the composer regaining his creative spark.
Sir Malcolm left much of his fortune to him when he died, including his home and a half-share of the royalties from his work.
The remaining estate was split equally between Robert and Katherine Arnold, the court has heard.
The Arnolds' barrister, Luke Harris, said Sir Malcolm sent a number of boxes - including the manuscripts - to his daughter's north London home in July 1976.
Soon after, he sent a postcard to Robert Arnold which simply read: "All the books, pictures, sculptures etc are for you and Katherine to share and keep or sell if you like."
The boxes were sent to Katherine Arnold at a time when her father was moving house, and contained his Oscar, valuable pictures, sculptures, and the now disputed manuscripts, the court heard.
"It is submitted that the words of the postcard would convey a clear and unambiguous gift to any reasonable person," said Mr Harris.
Judge Charles Purle QC was told in December that there was "no question" Sir Malcolm had legal capacity when he signed a 1990 will leaving Mr Day his house, his valuable manuscripts and a half share in the annual royalties from his work.
The hearing continues.