West Midlands motorway police to carry defibrillators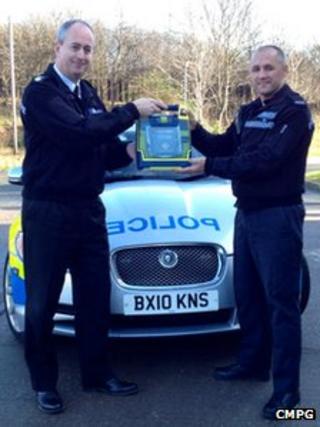 Police responding to emergencies on motorways in the West Midlands have been kitted out with potentially life-saving equipment.
Three police response vehicles will carry defibrillators to treat people who have suffered a cardiac arrest.
Officers from the Central Motorway Police Group (CMPG) have been trained to use the devices.
The cars are based at three sites covering West Midlands, Staffordshire, Shropshire and Worcestershire.
'Massive step'
The kit has been donated to the motorway police as a result of an initiative between them, West Midlands Ambulance Service and the British Heart Foundation.
PC Martin Smith, first aid trainer for CMPG, said having the equipment was a "massive step forward" in their efforts to help people who were taken ill or injured on the motorway network.
"Having fully trained officers moments away from an incident, with this kind of life-saving equipment could quite literally make the difference between life and death," he added.
Emma Wilkins, West Midlands Ambulance Service Trust's Black Country community response manager, said: "More often than not it's their (CMPG) officers who are first on scene when something happens on the region's motorway network.
"They now not only have the first aid training but also the right equipment to potentially save lives."