Harry Redknapp was 'not a happy bunny' over Crouch profit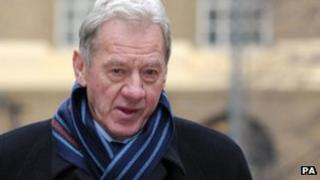 Former Portsmouth manager Harry Redknapp was "not a happy bunny" over getting a lower cut of transfer profits, a court has heard.
His then chairman, Milan Mandaric, told Southwark Crown Court that Mr Redknapp was unhappy his cut of Peter Crouch's transfer was reduced.
Mr Redknapp, 64, and Mr Mandaric, 73, deny cheating the public revenue over payments made to a Monaco bank account.
But Mr Mandaric said the money was to "develop a portfolio".
The prosecution claims payments totalling $295,000 (approximately £189,000) were connected to the transfer of Crouch to Aston Villa, and for ensuring Premier League survival with a win over Manchester United.
But Mr Redknapp told the court: "I have always paid my taxes. I've always gone to the best available people.
"I have always paid too much tax rather than not enough."
'Paid millions'
Earlier, the court was told by prosecution barrister John Black QC that payments following the transfer of Crouch were "all about Mr Redknapp and he was greedy and wanted more money".
But Mr Mandaric said: "He was paid millions of pounds. He was paid fairly. There was no issue whatsoever."
Mr Mandaric said the sums deposited in a Monaco bank account, named after Mr Redknapp's dog, was "money that I was going to develop his portfolio" with.
He added: "It has absolutely nothing to do with football. I hope I have been clear on this."
Mr Mandaric said "there was never any dialogue saying 'let's try to hide this account"' with Mr Redknapp.
The payments were made because "there was a friendship, two different subjects, things I always said".
He added he was entitled to be friends with his manager - who is now boss at Tottenham - and make investments for him, in same way he was entitled to holiday and play tennis with him.
The court had previously heard when England striker Crouch was sold on for a £3m profit, Mr Redknapp said he was due 10% as director of football.
It heard he was unhappy after his cut of transfer profits was reduced to 5% when he took over as manager.
The pair are accused on two counts, the first being that between 1 April 2002 and 28 November 2007, Mr Mandaric paid $145,000 (£93,100) into a bank account held by Mr Redknapp in Monaco to avoid paying income tax and national insurance.
The second charge for the same offence relates to a sum of $150,000 (£96,300) allegedly paid by Mr Mandaric to the same account between 1 May 2004 and 28 November 2007.
The trial continues.