John Anslow escape: Seven search warrants executed in Tipton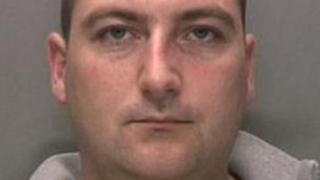 Seven search warrants have been carried out for a murder suspect who escaped from a prison van in Worcestershire.
John Anslow, 31, was being transported to Stafford Crown Court when he escaped from the van close to HMP Hewell Grange, near Bromsgrove, on 23 January.
The case was featured on Crimewatch, and Staffordshire Police said it had received more than 100 calls in total.
The force has carried out seven searches in the Tipton area in the past week, but the suspect remains at large.
Det Supt Martin Evans said: "Our dedicated team of detectives are continuing to investigate Anslow's escape. We've had almost 100 calls from across the country, including those prompted by Crimewatch, which is a really encouraging response."
A £10,000 police reward has been offered for information and a 44-year-old man has been bailed in connection with the case on suspicion of assisting an offender.
Mr Anslow was charged in January with the murder in July 2010 of Richard Deakin from Chasetown in Staffordshire.
Four other men have also been charged with Mr Deakin's murder.