HS2: £1,000 payments promised for survey work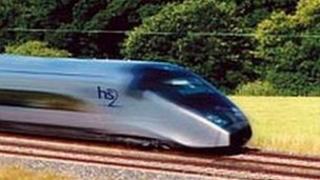 Landowners along the route of the new HS2 high-speed rail line will be offered an initial £1,000 payment to allow surveyors access to their land.
The National Farmers' Union (NFU) and the Country Land and Business Association (CLA) said they had negotiated the voluntary agreement.
It will allow access for environmental survey work on the planned line.
The money will come from HS2 Ltd, the government-owned company running the project.
NFU president Peter Kendall said that following the government's decision to press ahead with the scheme the union was determined to get the best possible deal for its members and would work with the CLA to secure it.
"This agreement is a positive first step in making sure that the government sticks to its promises on compensation and mitigation," he said.
The CLA said that on top of the £1,000 payment, HS2 Ltd has agreed to make additional payments if further environmental surveys are required and will pay for any damage done or losses caused.
The initial £1,000 payment will be split between the tenant and landowner where the land is let.
Alison Munro, chief executive of HS2 Ltd, said: "We hope to develop close working partnerships with those affected by the new line and this licensing arrangement is an important step in that direction."
HS2 Ltd said it had begun contacting individual landowners to arrange site visits.
The government approved the £33 billion scheme, which will cut journey times from London to Birmingham, Manchester and Leeds, last month.
Phase one of HS2, between London and Birmingham, should be running by 2026, and extend to northern England later.