North East Ambulance Service faces major reorganisation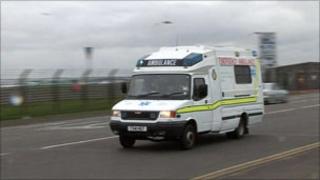 Major changes in the way the North East Ambulance Service (NEAS) is run have been announced.
The service plans to introduce more ambulances across the region but the re-allocation of vehicle numbers and types in some locations has raised concerns.
The MP for Berwick, Sir Alan Beith, said the loss of one of the town's two emergency ambulances would risk lives.
NEAS said without changes it would "fail to meet response targets".
The plans include adding a new category of ambulance to the current rapid response vehicles and dual-crewed ambulances.
These "urgent care" vehicles, with no paramedic, would deal with the majority of hospital and GP transfers and other non-emergency calls.
Some places would gain one or more types of ambulance, while others would lose some of their current provision.
Many locations would gain one type of ambulance while losing another.
Berwick's Liberal Democrat MP, Sir Alan Beith, said: "The distinctive feature about the Berwick area is that virtually all the emergency calls go to a hospital 50 miles away which takes the ambulance away for two to three hours.
"That means you need to have another one available.
"I understand why the service wants to review how it provides the services but it's got to recognise that Berwick is different."
'Isn't an ambulance'
The NEAS said Berwick's single ambulance would be able to attend more 999 calls than at present because its non-emergency transport role would be taken over by two new urgent care vehicles based in Alnwick.
The Chief Executive of the ambulance service, Simon Featherstone, said "lesser qualified crew" should deal with transport arrangements leaving fully qualified paramedics free to respond to the "more life threatening conditions".
He added: "I don't think it's going to put patients' lives at risk."
Trevor Johnston, from the health union Unison, said he was concerned 140 advanced technicians would be removed from the front line.
He said: "They're going to replace those with, basically, drivers... and I think that's a real worry in terms of safety for patients.
"The other worry we have of course is they redesigned all the shifts, not in our view for a better service but to save money and I think most ambulance staff are going to take a cut in pay on the front line and that's going to have a terrible effect on morale."
The North East Ambulance Service needs to save £20m over the next five years under government cuts.