Yorkshire hospitals interpreter costs soar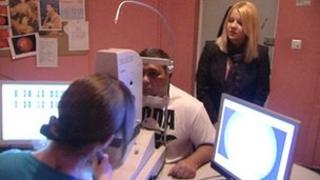 Spending on interpreters at most hospitals in Yorkshire has rocketed in the past five years, according to figures obtained by the BBC.
A Freedom of Information request by BBC Look North shows that all but two of the region's 12 hospital trusts saw increases in expenditure on interpreters ranging from 31% to 930% between 2007-08 and 2010-11.
More than £9.4m was spent in total across Yorkshire, with Leeds Hospitals, one of the biggest trusts in the country, accounting for £3.4m.
The research also shows that where the greatest demand from patients used to be for help with south Asian languages, such as Urdu, there is now a growing demand for Eastern European languages, such as Polish and Slovak.
The biggest percentage rise came in York where the hospital's bill for interpretation services jumped tenfold from £2,233 in 2007-08 to £23,000 in 2010-11, with the biggest demand for Polish.
Spending in Calderdale & Huddersfield almost trebled from £39,277 in 2007-08 to £114,260 in 2010-11.
Over the same period Harrogate Hospital's spending rose by more than 150% from £13,613 to £34,516, and in Bradford it increased by 120% from £283,142 to £624,359.
Conversely, the only trust to record a significant fall was Sheffield Teaching Hospitals where spending dropped by almost 80% from £900,095 in 2007-08 to £182,308 in 2010-11.
Barnsley experienced a slight dip from £32,000 to £31,000.
The biggest bill in the region was, not surprisingly, at Leeds Hospitals, which deals with about 24,000 requests each year.
Head of interpreting services Suzy Hansford said that in the past three years the amount being spent had actually levelled out from a point where it was growing by 10% a year.
She said that as long as someone wanted an interpreter they were entitled to one.
"Sometimes people speak good enough English to live their lives but not good enough to deal with doctors and diagnoses or things they don't quite understand.
"We are seeing an increase in demand for Eastern European languages; Polish, Czech, Slovak and some Lithuanian, which is surprising.
"A lot of that is to do with us promoting the service and more people realising they have a right to ask for an interpreter."
The Race Relations Amendment Act of 2000 puts a duty on trusts to provide accessible services, including help with language.
That was strengthened by the Equality Act 2010 which made all public sector organisations responsible for providing equal access to all services.
There is also, they say, a pragmatic need for the service. If a patient turns up and is unable to understand the extent of their condition or what medication to take, it can mean another consultant appointment and, consequently, extra cost to the NHS.
Leeds Hospitals has a register of 170 interpreters who can help with 70 different languages.
Ms Hansford said Leeds had managed to contain costs by getting its large bank of freelance interpreters on to the payroll, thus avoiding commission payments to the agencies which smaller hospitals have to use.
The register also allows management at Leeds to monitor performance closely.
Twenty-seven-year-old Martina Sebekova has done a lot of interpreting work since she came to England from Slovakia as an au pair, but now prefers to work in the NHS.
The BBC accompanied her when she was helping Czech national Otto Rybar, who has lived in Leeds for seven years, during a retinal scan at Leeds General Infirmary.
He is diabetic and needs to have regular eye scans to ensure his condition is not affecting his sight.
His correct positioning on the scanning equipment was vital and could not have been achieved correctly without his interpreter's help.
Ms Sebekova has six or seven appointments each day in all sorts of clinical and medical settings.
"Sometimes, obviously it is difficult; you don't always have lovely news to tell, so it's challenging.
"Then, on the other hand, when you see a newborn baby and happy parents that is rewarding as well."