'Jealous' firefighter sentenced for attack on colleague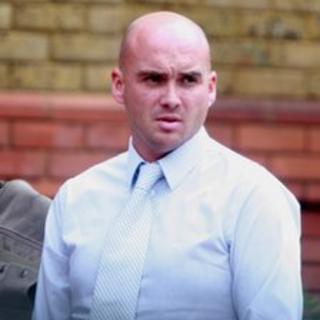 A firefighter who punched a colleague in a "jealous fit" after finding him in his girlfriend's bedroom has been handed a suspended jail term.
Richard Broughton, 32, of Hatfield Broad Oak, Essex, broke into Angela Barr's home at about 02:30 GMT on 17 December 2010 after a Christmas party.
He found Ms Barr in her nightwear and James Rhodes-Windsor wearing boxer shorts, St Albans Crown Court heard.
Broughton was found guilty of causing actual bodily harm.
'Sustained attack'
As police arrested Broughton, the court was told he shouted: "Thanks a lot, Angie. Thanks for sleeping with someone else."
Both Ms Barr and Mr Rhodes-Windsor denied anything sexual had taken place.
Jurors were told Broughton launched a sustained attack, with punches to the face and a kick to the body.
Mr Rhodes-Windsor, a performance information manager at the fire service, suffered injuries including a chipped tooth and bruising to the back.
All three worked for the fire service in Hertfordshire, the court heard.
Recorder David Miller said: "He lost control in jealous fit. He did not have to repeatedly punch him in the face.
"It was a sustained attack with repeated blows lasting some minutes."
He passed a 12-month jail sentence, suspended for 18 months, with 18 months' supervision.
Broughton was also ordered to complete 200 hours of unpaid work, pay £1,000 compensation to the victim and £1,000 costs.
'Out of character'
Mr Rhodes-Windsor said he went to Ms Barr's home, in Ware, Hertfordshire, and had intended to sleep on the sofa but found it was too small. He denied viewing Ms Barr as a possible sexual partner.
Defence barrister Terence Woods said Broughton had no previous convictions.
He said: "They were in their underwear and it looked to the defendant very much that something was going on.
"He was confronted with a situation he did not expect to find and reacted in a way that was out of character."
The relationship with Ms Barr was over and he has a new partner and a child, said Mr Woods.
Mr Woods said Broughton was suspended from the fire service following the arrest.
In September, he received a final written warning and returned to work after a transfer.
He was told that his position would be reviewed after the court case.
A spokesman for Hertfordshire Fire Service said it would be conducting an internal review.