Financial aid and takeover talks for Cumbrian hospitals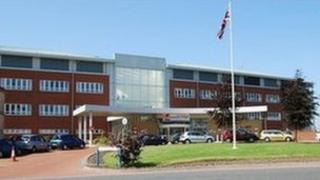 You could make this last week sound like a horrible one for North Cumbria's two main hospitals.
The board that runs them had to announce a deal that will see it taken over.
And now the government has said the trust will need extra help to bail it out of financial problems.
Yet, this could actually represent the turning point for the Cumberland Infirmary and the West Cumberland Hospital.
Money problems
The trust that runs the hospitals has been struggling with money problems for some time.
The population of North Cumbria probably only justifies one large general hospital.
But because people are spread so thinly across the county, it needs two to prevent people having to travel large distances for basic services.
That is expensive.
In addition, the North Cumbria University Hospitals NHS Trust (to give it its very full title) has got to continue to pay for the costs of building Carlisle's Cumberland Infirmary.
It was opened near the start of the Blair New Labour years.
But under the Private Finance Initiative, a developer provided the upfront costs and will have to be paid for many years to come.
No confidence
The trust then has faced multi-million pound deficits for some time.
That is why it needed to find someone to take it over.
In addition, the local unions have said they have no confidence in the management.
So this week Northumbria Healthcare NHS Foundation Trust was announced as the preferred bidder for a takeover.
It currently runs hospitals and health services in Northumberland and North Tyneside.
The takeover will create a trust spanning the width of England, from Berwick in Northumberland to Millom in West Cumbria.
It's bound to raise fears that patients on both sides of the Pennines will end up travelling further for treatment.
Both trusts insist they won't be looking to make major cuts to services though, and won't be forcing patients to travel long distances. We won't know for some time whether that will be the case.
But North Cumbria hopes the very size of the new trust will be its strength.
It believes its financial problems will be easier to manage in a bigger organisation. As a foundation trust it will also get greater freedom to make its own decisions.
Fresh start
Others seem to agree. The unions say they believe a takeover is a better alternative than sticking with the current management team.
And the Workington MP Tony Cunningham says he believes the deal will be a good one for patients.
He said: "It's a clean sheet, it's a fresh start. We need to get behind this new organisation.
"I've already spoken to the Northumbria chief executive Jim Mackie, and he's talking about investment in financing, in management, in doctors. I think this is good news for patients in West Cumbria."
Some of those financial difficulties may also have been helped by a government announcement.
North Cumbria is one of seven areas in the country that will be able to use a £1.5bn bail-out fund to meet the PFI bill for the Cumberland Infirmary over the next 25 years.
It'll have to meet certain targets on savings and care, but it should ease the burden at least.
With the government promising funding for a replacement for the West Cumberland Hospital too, there is now some hope for the future of the north of the county's two main hospitals.
Detailed negotiations
There is still more work to do though.
Detailed negotiations are now beginning on the takeover, and it may not be completed until the autumn.
The new trust will still have to wrestle with the costs and challenges of providing services in a large rural area.
But it's fair to say, the outlook is brighter than seven days ago.