South on amber alert for widespread snowfall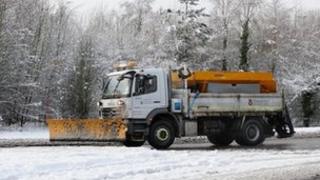 The Met Office has issued a severe weather warning for Dorset, Hampshire, Berkshire and Oxford, predicting widespread snow and ice.
An amber warning is the second highest level issued by the Met Office with snowfall of up to 10cm expected.
A yellow alert has been issued for the Isle of Wight.
A temperature of -10.3C (13F) was recorded in Benson, Oxfordshire, and temperatures were expected to plummet overnight to -11C (12F).
The sub-zero temperatures meant Portsmouth's home match against Hull City on Saturday became the first Championship fixture cancelled due to a frozen pitch.
Several matches in the lower leagues had already been called off.
Hampshire County Council said it was ready for the cold conditions and had already used more than 3,000 tonnes of salt.
'Powdered urea'
BAA has cancelled one-third of Sunday's flights from Heathrow Airport.
Councillor Mel Kendal said: "We are well prepared for cold weather. We have installed large capacity bins filled with salt and grit and have provided parish councils with snow shovels.
"I would ask people to check on vulnerable or elderly people in their community during times of bad weather."
Reading Borough Council said it was also fully prepared for the worst weather. Powdered urea had been laid in the town centre to stop the snow settling and footway snow ploughs were on standby.
British Gas said its fleet of all-weather 4x4s was on standby to get engineers out to customers during the cold snap.
The warning, issued by the Met Office at 11:45GMT on Saturday will remain until 23:59 GMT.