Ice warning issued to motorists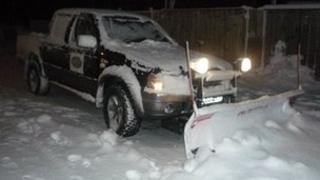 Drivers are being warned of potentially icy conditions despite the north east of England escaping the worst of the snow disruption.
There was a covering of snow almost everywhere over the weekend, with falls of up to 4ins (10cms) in some places.
There were dozens of collisions, but police said almost all of them were minor, and all major roads - including the trans-Pennine A66 - remain open.
The Met Office has issued a yellow alert due to the risk of ice.
It will remain in force until 12:00 GMT on Monday.
There were no reported problems train or ferry services.
Over the weekend, Northumbria Police issued a warning to revellers to dress appropriately for the weather.
Jamie Grant, who runs a private company which clears snow from the grounds of fire and police stations, supermarkets and law courts, said that overnight conditions in some places were appalling.
He said: "In Bishop Auckland you couldn't see your hand in front of you, the fog was really bad. It made driving absolutely dreadful."