Hampshire and Isle of Wight escapes worst of snow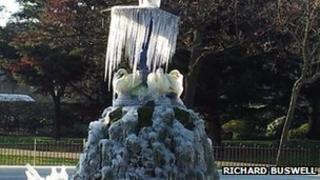 Hampshire and the Isle of Wight have escaped the worst of the heavy snowfall with no significant problems reported by the emergency services.
The north of the county saw a covering, with gritters due out again on Sunday with a warning of ice into Monday.
About 1,300 homes in Kingsworthy, near Winchester, were left without power when overhead cables were brought down.
The bad weather hampered Southern Electric engineers but all homes were later reconnected on Sunday.
The Met Office has issued a yellow warning of ice for most of Hampshire with drivers urged to take extra care.
On Saturday, Portsmouth's home match against Hull City was cancelled due to a frozen pitch.
Hampshire County Council said it had been prepared for the cold conditions and had boosted its salt stocks.
Ian McShane, a motorist, wrote on Twitter on Saturday: "A great job in Hampshire and Berkshire.
"Six snow ploughs out on M3 north this morning. No problems at all."
Hampshire fire service said it had no weather-related call-outs overnight on Saturday.