Oxfordshire ice warning after M40 snow chaos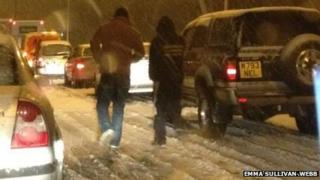 Motorists across Oxfordshire have been warned about ice after snow overnight on Saturday brought disruption, with about 100 drivers stuck on the M40.
Some people abandoned their cars while others were trapped for more than three hours between Junction 4 High Wycombe and Junction 9 Bicester.
Bus services in Banbury, Witney and some parts of Oxford were also cancelled on Sunday.
The Met Office has issued a yellow warning for ice into Monday.
More than 100 workers from Oxfordshire County Council spent Saturday night helping clear snow.
Thames Valley Police said it helped the Highways Agency get its gritters fitted with ploughs to the M40 on Saturday night.
Emma Sullivan-Webb, from Oxford, was stuck on the M40 for two-and-a-half hours after leaving Ipswich at 19:30 GMT on Saturday.
She said: "It just came to a complete stop, it was crazy. I was on my own so it was scary.
"People started getting out and walking down to see what was going on.
"I think because a lot of lorries and coaches were getting stuck it was blocking everyone going past.
"There were no lanes, people were just driving where they could.
"Eventually police started to help cars get out and I got to my house at 02:45 GMT."
A temperature of -12.4C (9.7F) was recorded in South Newington, Oxfordshire, on Friday night - the lowest this season, the Met Office said.
The cold conditions are likely to continue into the early part of the week.