Stuck M40 Oxfordshire snow driver: 'It was crazy'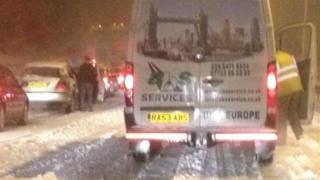 "It just came to a complete stop, it was crazy."
Emma Sullivan-Webb was one of about 100 drivers stuck on the M40 in Oxfordshire amid heavy snowfall.
The 23-year-old, who was travelling alone, left Ipswich at 19:30 GMT on Saturday evening driving to her home in Oxford where she eventually arrived at 02:45 GMT.
"It was not really snowing when I left but when I got to the M25 it started," she said.
"But it was on the M40 when everything came to a stop.
"There were no lanes, people were just driving where they could.
"People started getting out and walking down to see what was going on.
"I stayed in my car because I was cold, people were getting out and putting anti-freeze in their cars, trying to keep them going.
"I saw a few cars down a man got out and had a wee next to my car.
"People that were with other people found it quite funny but a few of us who were on our own were fed up because nothing was moving.
"Eventually police helped push vehicles out, there was a rough bit where people were getting stuck.
"Once I was through it was OK, but I didn't get above 20mph the whole way home."
Another driver, David Bostock, tweeted: "We had a nightmare trying to get from Beaconsfield to Oxford.
"Stranded cars and jack-knifed lorries everywhere."