Selwyn Cox's heart operation postponed three times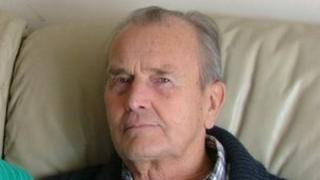 A man from Cornwall has had a heart operation at a Plymouth hospital postponed three times time in a month, including twice on days it was due.
Selwyn Cox, who needs his aortic valve replaced, said the two on-the-day postponements had happened as he was about to go into theatre at Derriford.
The 77-year-old said that the situation was causing him a lot of stress and that he had made an official complaint.
The Plymouth Hospitals NHS Trust said demand on intensive care was to blame.
The open heart procedure was due to take several hours, and, the longer it was delayed, the greater the risk of heart attack or stroke, Mr Cox said he had been told.
An hour before he set off for Derriford in early January for the operation, he got a call to say it was postponed because the surgeon was unwell.
Two weeks ago, he was waiting to go to theatre when his surgery was postponed and he was sent home.
Last Wednesday, he got as far as being prepared for surgery only for it to be postponed for a third time.
The reasons given were that no intensive care unit beds were available, or that no nurses were available to staff the beds because of emergency cases.
Mr Cox said: "You dread going into hospital, but you have to keep going and coming home and going back again.
"They should really consider what they're doing.
"They're dealing with people's lives and it's absolutely ridiculous that they're doing such things."
The hospitals trust said it had offered its sincere apologies and that operations were never cancelled lightly.
It said that it only happened when there was no alternative after all possible solutions had been explored right up to the last minute.
The trust added that there had been an unprecedented demand for cardiac intensive care beds because of an increase in patients who needed the beds for long periods.
Mr Cox's procedure has been rescheduled for later in the week.