Victim Michael Clifford 'pities' sex abuse priest Bede Walsh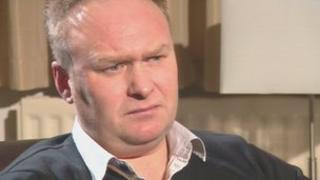 The first victim of a former Roman Catholic priest convicted of sexually abusing boys over 20 years says he pities him and hopes he gets help.
Alexander Bede Walsh, 58, abused eight youngsters in Warwickshire, Staffordshire and Coventry from 1975 to 1994. He denied 27 offences.
Michael Clifford, from Birmingham, said he was abused by Walsh as a young boy on one occasion in the mid-70s at the Catholic-run Father Hudson's home in Coleshill, Warwickshire.
He has waived his anonymity to talk about his encounter with Walsh, which took place in a toilet and washroom area.
Mr Clifford said he did not dare tell anyone what happened and remained unaware other boys had been abused until many years later.
'Gullible and sensitive'
"It didn't last for long and I just managed to escape the clutches of him and get out of the washroom," he said.
"I did not feel I had done anything wrong, but I felt guilty that I had no one to speak to - and being in that environment as well, I felt very lost.
"I was a child, I was very gullible and sensitive."
He described Walsh, from Staffordshire, who was ordained in 1979, as a "very intellectual man" who was highly thought of in the home and in the Catholic community.
That added to his reluctance to say anything.
During the trial, prosecutors said Walsh was a determined, manipulative, predatory paedophile who believed nobody would speak out against him because he was a priest.
Walsh told the jury that part of his priestly duties had been to visit families and take children swimming.
He denied he had ever inappropriately touched or been touched by the children.
He resigned from the priesthood after a previous conviction for downloading indecent images of children from the internet, but was continuing to live in church accommodation.
Mr Clifford said he was shocked to lean about Walsh's previous conviction.
It was not until he read an article in a local newspaper years later asking if any children who were at the Father Hudson's home had experienced any sexual abuse.
"Obviously when I made my allegation it was my word and against his, so knowing that there's people who have come out and spoken about the issues has helped a lot," he added.
"I did not consider telling anyone at the time.
"With it being a closed community with children, anything like that was unforeseen, it just does not happen.
'Move on'
"I was quite shocked that a man in that sort of authority and responsibility could get away with something like that for so many years and not get reported."
He said the court case had comforted him and given him confidence because he knew justice was being done.
He said: "I am bitter but I also feel sorry for the man because it's help as much as punishment he needed.
"I do want him to be punished but I think he needs help.
"He obviously had reasons why he did it and I will never be able to move on in my life if I hold grudges and bitterness."