Cory Youlden admits murder of Paul Cox in Rednal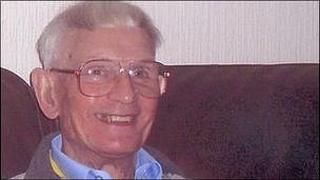 A man has admitted murdering an 83-year-old man at his home in what police have described as a burglary that went "terribly wrong".
Paul Cox was found at his semi-detached home in Waseley Road in Rednal, Worcestershire, last June, just days before his 84th birthday, police said.
Cory Christopher Youlden, from Hagley Road in Birmingham, pleaded guilty to murder at Worcester Crown Court.
The 23-year-old will be sentenced at the same court on 27 February.
'Lies and deceit'
Detective Chief Inspector Paul Williamson, of West Mercia Police, said: "Elderly people are among the most vulnerable members of society and Mr Cox was just days short of his 84th birthday on 7 June, when he was killed in a burglary that went terribly wrong.
"When he was caught he initially denied having gone into Mr Cox's house and tried to put the blame elsewhere.
"His lies and deceit led to other people being arrested.
"However as a result of the full and thorough investigation we carried out the weight of the evidence against him was overwhelming."
He added that Youlden's decision to change his plea spares the victim's family from the "extra anguish".
"They have already spent eight months waiting for justice to be served and while sentencing has yet to take place hopefully the outcome today will provide them with some solace and a degree of closure."