Lloyds Banking Group to shed 1,000 jobs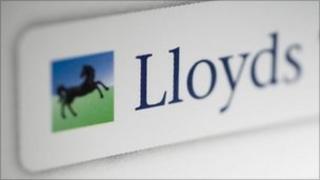 Almost 1,000 jobs are to be shed at Lloyds Banking Group.
More than 500 staff are expected to be made redundant with the closure of administration sites in Newcastle, Scunthorpe and Romford.
About 217 workers from its West Midlands site in Dudley are to be moved to another location.
The group is still considering where to make the remaining job cuts, which come as part of a restructuring of its business.
Lloyds said its Scunthorpe and Newcastle sites are expected to close by the end of this year.
About 209 employees are affected in Scunthorpe and 135 in Newcastle.
Its processing centre in Romford, Essex, is expected to close by the end of September with a loss of 212 posts.
About 217 jobs will be relocated from Dudley to Penderford, West Midlands, by the end of December.
The part-nationalised group is unable to say whether the remaining 490 posts at risk will be made redundant or redeployed elsewhere in the business.
The organisation said it would reduce the positions through natural turnover and voluntary redundancy, but that compulsory redundancies would be "a last resort".
'Devastating blow'
In a statement, a spokesman for Lloyds Banking Group, said: "In fact, during 2009, 2010 and 2011, slightly less than 50% of the role reductions made as part of integration have led to people leaving the group through redundancy. There are 990 role reductions from today's announcement.
"All affected employees have been briefed by their line manager today. The group's recognised unions Accord, LTU, GMB and Unite were consulted prior to this announcement."
More than 28,000 jobs have been cut since the merger of Lloyds TSB and HBOS in 2008. Last June, the group announced cuts of a further 15,000 posts.
Unions said it was a "devastating blow" to workers.
David Fleming, national officer of Unite, said: "[We] believe that this announcement is inappropriate as the full requirement of the group's divestment is unknown.
"Unite will be holding discussions with the bank, with the objective of minimising the need for job cuts following this further restructuring. The organisation must do more to offer redeployment opportunities to their workers."
Accord general secretary Ged Nichols said: "Newcastle, Romford and Scunthorpe are areas that cannot afford to lose the high-quality jobs that will go as a result of today's announcement.
"Whilst Accord has informed Lloyds Banking Group it must do everything possible to avoid compulsory redundancies and work with us to provide support and guidance to those affected, the truth is that even those who volunteer to go will find it difficult to find alternative employment in these difficult economic times."