Harry Redknapp awaits tax trial verdict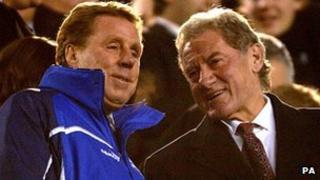 The jury in the Harry Redknapp tax evasion trial has started its second day of deliberations.
The Spurs boss denies evading tax on payments totalling £189,000 from former Portsmouth chairman Milan Mandaric during their time at the club.
The jury at Southwark Crown Court was sent out on Tuesday with the judge telling them to ignore footballing matters when considering the verdicts.
Mr Redknapp and Mr Mandaric both deny cheating the public revenue.
Judge Anthony Leonard told the jury of eight men and four women that football was an "emotive subject, stirring in an individual anything from deep passion to resentment".
In his summing up, he added: "This case is not about football but about allegations of tax fraud."
The prosecution said deposits totalling £189,000 in a Monaco account - named after Mr Redknapp's dog Rosie - were bonuses related to Portsmouth Football Club.
'Basic instincts'
At least one of the payments was related to the £3m profit the club made on the sale of England striker Peter Crouch to Aston Villa, the court heard.
Mr Redknapp and Mr Mandaric have said the money was not football-related and was put into an investment portfolio.
But Mr Redknapp's barrister, John Kelsey-Fry QC, said on Monday some of the prosecution's evidence was "repugnant to all our basic instincts of fairness".
Both Mr Redknapp, 64, of Poole, Dorset, and Mandaric, 73, from Oadby, Leicestershire, deny two counts of cheating the public revenue when Redknapp was manager of Portsmouth Football Club.
The first being that between 1 April 2002 and 28 November 2007, Mr Mandaric paid $145,000 (£93,100) into a bank account held by Mr Redknapp in Monaco to avoid paying income tax and national insurance.
The second charge for the same offence relates to a sum of $150,000 (£96,300) allegedly paid by Mr Mandaric to the same account between 1 May 2004 and 28 November 2007.